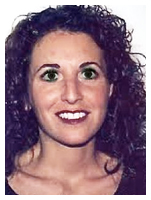 Gina is my physician's assistant, education and research coordinator. She has been a member of our team for five years. The safe, effective and reproducible performance of a surgical procedure requires strict attention to detail. In a field like joint replacement surgery, where surgical techniques and implants are constantly being updated, the integration of these changes in techniques and devices into the regular operating room workflow requires careful monitoring and close supervision. In a practice such as mine that is involved in the development and evaluation of new and innovative technologies, the incorporation of those developments requires careful, responsible monitoring and continual accurate evaluation.
One of Gina's primary responsibilities is the coordination and monitoring of the performance of each surgical procedure. She assists in the performance of the surgical procedures. She coordinates the interactions of the operating personnel and the Orthopaedic Surgical Service. She provides residents and students with the information they need to understand the surgical procedures and instructs them in the appropriate and safe way to assist in surgical procedures. She confirms the completeness of pre-surgical evaluations prior to surgery. She coordinates the interaction between the Anesthesia Service and my Orthopaedic Service. She confirms the completeness and accuracy of the post-operative management program. She is my personal quality control supervisor in the operating room.
Gina is also responsible for assuring that data regarding the performance of each surgical procedure are appropriately and accurately collected. The ongoing monitoring of each surgical procedure is not only essential for quality control but is also necessary for the evaluation of new or altered surgical techniques and implants. In this function, Gina regularly interacts with the departments within Northwestern Memorial Hospital and Northwestern University Medical Center responsible for collecting and evaluating information related to surgical outcomes. Gina is also responsible for supervising resident and student research projects.